Parent Participation 2018-2019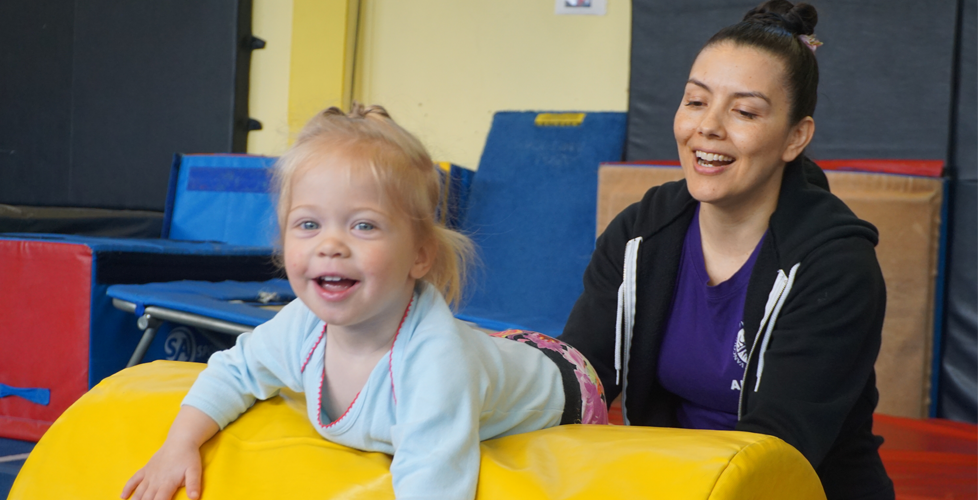 Parent participation classes offer children a safe gymnastics environment to explore with their parent / caregiver. Coaches will demonstrate how they can learn motor skills through free play, songs, games, creative movement and circuits.
WIGGLES & GIGGLES
This 45 minute class is designed to promote gross motor skills and coordination for 6-14 months old children who are sitting on their own.
ROCK 'N' ROLLERS
45 minutes of basic movement skills and an introduction to structured activities for 1-2 year olds walking independently.
JUMPING JELLYBEANS
Fast-paced 45 minute class for 2-3 year olds that encourages jumping, running, climbing and having fun in a safe environment.
6-14 MONTHS

WIGGLES & GIGGLES

45MIN

 
Monday
Tuesday
Wednesday
Thursday
Friday
Saturday
Sunday
Treehouse
 
 
11:00a
 
 
 
 
1-2 YEARS

ROCK 'N' ROLLERS

45MIN

 
Monday
Tuesday
Wednesday
Thursday
Friday
Saturday
Sunday
Treehouse
9:15a
11:00a
10:00a
11:45a
9:15a
10:00a
11:45a
9:15a
11:00a
10:00a
11:45a
9:15a
11:00a
St. James
9:15a
10:00a
10:00a
 
9:15a
10:00a
 
2-3 YEARS

JUMPING JELLYBEANS

45MIN

 
Monday
Tuesday
Wednesday
Thursday
Friday
Saturday
Sunday
Treehouse
10:00a
11:45a
10:00a
11:45a
10:00a
11:45a
9:15a
11:00a
10:00a
11:45a
9:15a
11:00a
2:00p
10:00a
11:45a
2:00p
St. James
10:00a
11:00a
9:15a
11:00a
10:00a
11:00a
10:00a
11:00a
9:15a
11:00a
 
FEES FOR PARENT PARTICIPATION CLASSES

 
Monday
Tuesday
Wednesday
Thursday
Friday
Saturday
Sunday
Fall
TH
$233
$250
$250
$250
$250
$250
$217
Fall
SJ
$233
$250
$250
$250
$250
$250
 
Winter
TH,SJ
$150
$167
$167
$167
$167
$167
$167
Spring
TH,SJ
$167
$200
$200
$200
$183
$183
$167